Our tradition of dancing for Fiestas and other special occasions such as funerals is well established and treasured. This ritual dancing brings us together and gives us joy, entertainment and peace.
Click here to visit the Facebook page of New Mexico Matachines!
Pictures from the 2018 Carnuel Santo Nino May Fiesta.
Pictures from the 2018 San Antonio Fiesta.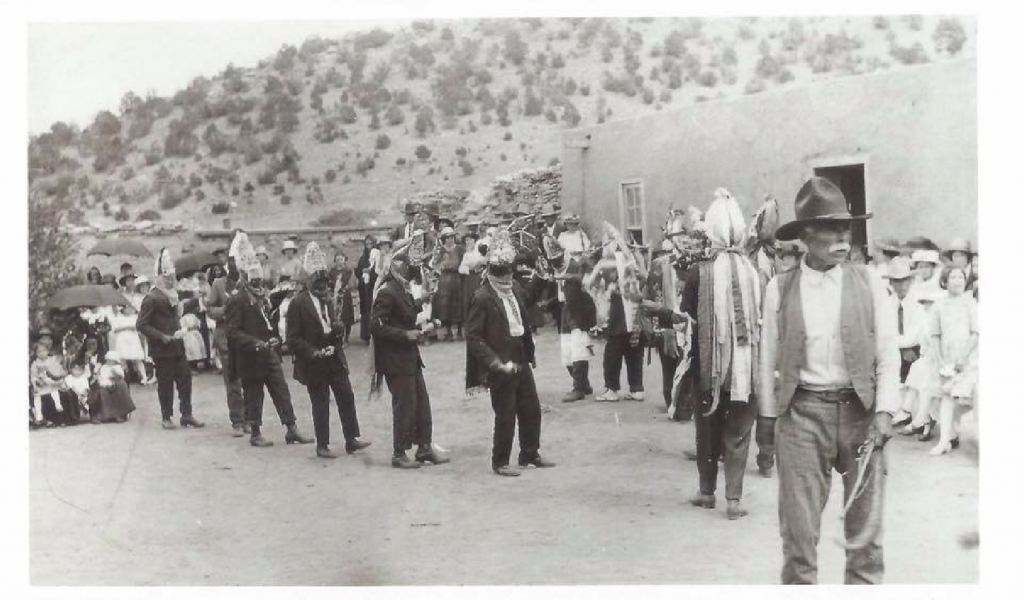 Los Matachines is a ritual dance society that performers a public dance during the Saints days for all in the east Sandia Mountain communities, but has its origin in San Antonio de Carnué. The Matachines likely arrived to the Carnué Land Grant by way of Isleta Pueblo and Sandia Pueblo, where many early San Antonio families have matriarchal lines through inter-marriage. The dance is primarily danced in Pueblo native communities in New Mexico, but is also practiced in communities such as Alcalde, Bernalillo, El Rancho, and Tortugas (Rodríguez, 2009). The leadership of the Matachines is known at the monarcha, representative the Aztec king Montezuma, and is responsible for organizing practice, selecting danzantes (dancers) and mentoring and training youth from the community into the matachín society. Historically, there was one monarcha from San Antonio de Carnué, but later there were two, with a leader in Carnuel. Before WWII, only men were allowed to be danzantes; however, during WWII there were a lack of male dancers in the community and women ensured that the ritual performances continued. Los matachines serves as an initial training and mentoring of the youth of the community into the querencia of Carnué.
Click here to read the State Historian article describing this widespread and wonderful tradition.